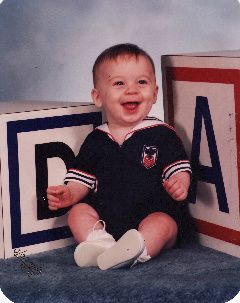 Brandon "1991"
I am currently planning a big "18th" birthday bash for my oldest son Brandon. As I have been making out the guest lists, calling the Dee Jay, talking budget with my husband, I am quickly taken back to his
first
birthday. It seems like yesterday that I was planning his big Chuckee Cheese party.
I had friends and family who didn't understand why I would want to spend money on something (they said) he would never remember. All these years later and I wouldn't change a thing. Do you know why....., because
"I"
remember.
All too soon, his days at home are coming to an end, and yet it seems like it was just yesterday that I was putting his pudgy little diapered bottom in the front of my grocery cart. Where did the time go?
If I could do it all over again, I would do so many things differently. I would relax and know that it's okay that he didn't
"get"
borrowing or carrying, or that he misspelled "Wednesday". I would now know that he'll get it, eventually, in
his
timing and not a minute before. I would enjoy his silliness and encourage him to learn from his mistakes, rather than fret over them.
I love
homeschooling
, I love the lifestyle of
"family"
that it offers us. My heart is especially drawn to those of you in the wonderfully busy season of babies. Perhaps diapers and bath time make you feel like your being swallowed up and forgotten, but I promise you that all too quickly your season will be over and then they'll be on their own. I pray you can enjoy every single second.
While out of town for an annual homeschool planning weekend I wrote my son a letter as we prepared to begin his "senior" year. Please note that it was not my intention that this letter would become an article, but my hope is that it will give a big picture view to those of you who are in the busy, crazy younger years. I promise you, one day you will wake up and your homeschool season will be all over. It goes so quickly. Embrace everyday, enjoy every moment and
don't blink!
6-26-09
"It is late at night and I am hours away from you at my annual homeschool planning weekend. This time next year you will have completed your twelve years of formal home education and we will be setting goals for the next step in your life. As I sit in the quiet (everyone else is asleep) I am overcome with memories of YOU! My heart can hardly believe that we are beginning your senior year. It seems like yesterday that I was holding you in my arms for the very first time staring down at your sweet little face. Where has the time gone?
It seems like yesterday we were running you to soccer, ice hockey, karate, you name it. I remember how exhausting it was to keep up with your busy schedule. However, I'd do it again in heartbeat! I LOVED watching your face as you would slide effortlessly across the ice rink with your hockey stick guiding your little black puck. I can't help but laugh out loud as I remember the time you made a goal for the "other" soccer team. You stood out on the field jumping up and down, hands raised looking at your daddy and I with excitement and pride. All the parents got to their feet and cheered you on. (though your teammates didn't, LOL)
I was blown away last year when you wowed your father and I with your ability to hold an audience in the palm of your hand as you co-emceed the county talent show. Your sparkling personality and amazing sense of humor draws others to you. I want to do it over again just because you've made the journey such a JOY! It brings a smile to my face as I am reminded that these are just the beginning of our memories.
It will be my genuine delight to begin moving to the sidelines so you can take the reigns of your life. As you begin your career, figure out exactly who you are, and start a family, I will always be there cheering for you, praying for you, proud of you. You are so tender, so sweet, so loving and yet at the same time you are solid and strong!
I know that before I was ever born I was created to be your mom and it has brought me more satisfaction than anything else I could have ever done with my life. You, your brothers and your daddy are the delight of my life. I am so proud of you Brandon! I want you to know that I believe in you and I cannot wait to see what you are going to do to make a difference in this world!"
I would like to close by sharing a song that moves my heart and reminds me of what's most important....., It's by Kenny Chesney and it's called,
"Don't Blink"
!
How about you? Where are you in your journey? How old are your children?